1. You feel stuck in life, health, relationship, business... Strange engerys are holding you back?

2. You want to learn the Soul Language / Light Language / Talking in tongues?

3. Since PCR test's & COVID vaccination, you are down?
You are getting worried of all "sudden death" around you and want to get the stuff out again?
Despite many seminars, treatments and work on yourself, do you still feel karma, external energy, blockages, fear or a feeling of being manipulated?
Do you notice that something inexplicable is in your way and is preventing you from moving further towards clarity, strength, self-empowerment and success?

Since the PCR test's & COVID vaccination you notice disturbing changes in you!?
You want to finally "untie the knot", no matter what it is and do everything necessary for YOUR life in clarity, strength, success, strength and self-empowerment ?!

The COVID-vaccination & COVID19-PCR-test side effects should be OUT, before it´s to late?!
With my unusual way of working, "König-Breuss-gsundsi® method". A mixture of soul language, forgiveness, grandpa's healing knowledge, powers of light and much more, I was able to help many people to free themselves from foreign energies, karma, blockages and fears and thus finally to make room for clarity , Trust in God, being guided, lightness, strength, self-empowerment and success.

My customers also have tremendous success with
PCR testing & Covid vaccine discharges
through
treatments & VIDEOS
.
CURRENT TOPIC
COVID VACCINATION & PCR-TEST SIDE EFFECTS
DISCHARGE BY VIDEO!!!
With the help of the transformation VIDEOS, Michael's clients are achieving tremendous success with PCR test & Covid vaccine discharges!
CLICK HERE!

HOW MUCH ARE YOU AT THE POINT THAT YOU "DON'T WANT ANYMORE",
THAT NOW "A CHANGE HAS TO BE MADE"?
"If you want to start NEW, you should do so immediately,
for one difficulty overcome avoids a hundred new ones! " – Confucius
"A back and forth makes the pockets empty" – Mugrauer
"Do it right away, then it´s done" – Michael
Take the quick test "Liberation from karma, external energy & UR blockades as well as self-empowerment" NOW, so that possible causes of your problems can be identified energetically, spiritually, financially, interpersonal and where you want to go with YOUR life.
This condition analysis helps YOU and me to see whether, how and what is feasible and expedient.
Do you notice that you are not getting any further in life?
Karma, external energy, blockades, fear, black magic, extraterrestrials, Atlantis trauma or bad childhood experiences block you.
You realize that you have not recognized something ... which, however, would bring the solution! You have already tried everything and spent thousands of euros on:
Family constellations, regression, shamans, NLP, coaching, silent retreat, dowser etc. and still you are still stuck?
Despite all your efforts, you are moderately satisfied or dissatisfied professionally and privately and you feel that it cannot go on like this, you don't want to continue until the end.
Money, health, age, inner unrest, partnership, living situation, children, parents-in-law or a look in the mirror lets you feel that a change HAS to be made?
In my
Programms, Seminars, Videos & Treatments

, I can help YOU, as well as hundreds of other spiritual open people, therapists, healers, clairvoyants with the "König-Breuss-gsundsi® method", to dissolve karma, external energies, base-blockages, resonances, fears and much more.
You will feel that you have now recognized important connections, how dark and light forces work and how you can control them! The fear of the dark / devil / evil and their interference is gone! You will see how everything is correct, everything is "on schedule" and how you can contribute YOUR part to the solution for you and your customers. You will be protected, accompanied, guided and work very successfully for the highest good of your fellow human beings. You will have a lot more confidence in your work, because even in "hopeless" situations you often know a solution or it will come to you.
Your benefits & Your possibilities
You feel lighter, brighter, free of fear, anger, physical-emotional & soul pain. Feel NEW born...
Your heart is open, full of trust and inner peace and made peace with people you had problems with.
Know how to solve karma, foregin energies, fear, magic, water veins, 5G, alian problems and so on.
Your base-blockades since the beginning of creation are released and are now "free" to work creatively successfully
You get praise and recognition from customers for the solutions that you can now bring about!
You have trust in the divine plan & guidance, you feel strength, clarity, self-determination, you are successful and give full throttle!
Since the appointment four days ago, I've been doing very well. I've had a lot more strength since then. The day before yesterday morning I danced and sang because there was so much joy in my heart. In the afternoon I also cleaned for about 2 hours. Before that, I was always completely knocked out afterwards. Not now, I still had strength! WOW !!! Dealing with my sister is easier and more carefree. I wish so much that it stays or even gets better. And I wake up every morning with a feeling of joy in my heart that lingers through the day. Thank you dear Michael for your wonderful soul work !!!
I originally had the energetic blockade solution carried out because of possible blockages due to a difficult time in my childhood (very long hospital stay due to a serious illness). Since the treatment, I have also noticed that my relationship with my wife has changed even more for the better. The perception of my feelings has improved, the connection to my wife feels stronger and I feel the need to say to my wife: "I love you" much more often than before the treatment. Many thanks to Michael König-Breuss!
Hello dear Michael! What can I say, all the best for this treatment! I looked for help everywhere, different doctors, therapy but unfortunately nothing helped, but not like you did after the treatment! This drug circle was infinite! You managed to give me a lot more energy, joie de vivre, less fear, anger! More strength, more love, what was hidden somewhere inside of me! I'm finally this old little;) big Emina ready for life LG (and hope the effect will be even stronger with time)
As always, this seminar on October 31, 2020 by the energetic Michael König-Breuss, which dealt with the energetic removal of chips and implants, as well as the energetic extinction of the effects of vaccinations, was of very high power and quality. Absolutely to be recommended! And as a highly sensitive spiritual healer from Germany, I say that with full conviction! Thank you, Michael!
Dear Michael, thank you from the bottom of my heart for the wonderful online seminar, where you not only awakened the gift of soul language in me, but I was also able to experience profound, moving, uplifting, enlightening and heartfelt moments with you and all participants. Thanks! And if you, who are reading this entry now, are still unsure, I can only recommend you: feel inside yourself. And if you have a good feeling and the impression that Michael does not let go of you with his offers and the soul language itself and somehow triggers you, then be brave and dare to take the step. With this in mind, thank you again from the bottom of my heart and greetings from the heart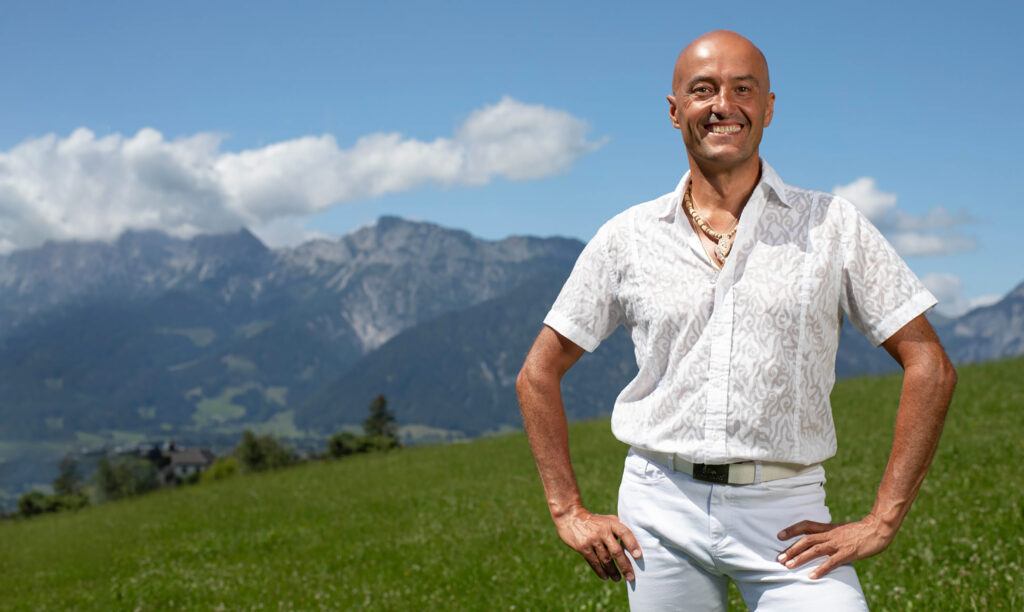 Who is Michael König-Breuss ?
Michael König-Breuss is THE expert for soul language / light language / talking in tongues as well as liberation from karma, external energies, fear, black magic, childhood trauma and base-blockages. With the "König-Breuss-gsundsi® method" he helps spiritually open people, therapists and coaches to dissolve stressful karma, external energies of all kinds as well as base-blockages and self-doubts. He teaches them to do this themselves and enables them to build up their inner strength, as well as using their spiritual gifts for themselves and clients, for a life of clarity, power, success, strength and self-empowerment. It´s successes are truly evident.
The healer grandpa has established a basic understanding of energies, beings and powers and their destructive or healing effects. Also when healings may or may not happen! How powers of light support work or make it possible in the first place.
By "chance" I was led from dowsing to redeeming earthbound souls in 2005, from there to black magic & curses, then to foreign energies, chips, seals and extraterrestrials in houses and in people.
Then to nature beings like dwarfs, elves, unicorns and dragons, then to KARMA and "God's plan - soul plan" where the cause of the problem has ALWAYS been located. The SOLUTION resulted through knowledge, LOVE, forgiveness, soul language and "God's helper"!
Coincidence or "God's Plan"? In any case, I am now one of the few people who can bring about real comprehensive, fundamental, final solutions with such energies as karma, foreign energies & UR blockages!
The soul language / original language / light language is an enormously helpful tool, without it the successes would not be possible. The work is only possible with the support and guidance of the powers of light, angels, etc., because they are the "technical experts" who do things about which I know nothing, neither name nor existence.
All in all weird, like Harry Potter, The X-Files Mulder & Scully, Avatar, Star Trek ... and yet our daily reality. If solutions are found there, the effects are lasting and goal-oriented. This is my offer for YOU!
Do you really want to be free from foreign energies, karma, base blockades, fears, manipulation, aggression, frustration and self-doubt?
Are you running out of patience, zest for life, energy and money? Is it enough now?
Would you like to live your life in clarity, trust in God, being guided, lightness, courage, strength and success?
Then use the opportunity now for your free
Know yourself conversation
You will get clarity about:
Soul language – Light language - primal language, for healing and heart opening!
... liberation from karma, external energy & base-blockades for YOUR self-empowerment
Use this group and help each other to say goodbye to karma, foreign energies, base-blockades, fears & doubts in order to welcome clarity, power, success, strength and self-empowerment!
Every Mon. at 8:00pm is a LIVE talk on these topics with cleansing/liberation soul language meditation! https://www.facebook.com/groups/seelensprache
https://us02web.zoom.us/j/7319331766
The group "Guru" Michael, is now an "international expert" for soul language and liberation from karma and foreign energies
It would be great if this group creates plenty of "gurus" and "experts",
who actively shape the change in the world

Be part of the group, to be the first to know important news for YOUR spiritual "upgrade"!